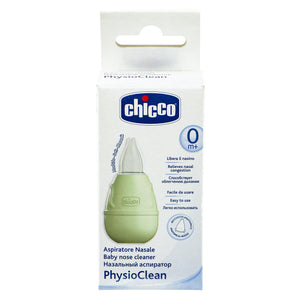 Chicco Traditional Nasal Aspirator / Snot Sucker
or 6 weekly interest-free payments of

$1.49
What's this?
---
---
Nasal cleansing is very important, particularly for newborns: in the first months of life, a baby breaths predominantly through their nose, and cannot blow it by themselves. Having a blocked nose affects baby's sleep, feeding, drinking, general well-being of baby and family. If your baby's nose is congested, it makes it harder for them to eat, drink and sleep.

The ergonomic shape makes it easy to use, with a soft nozzle which is particularly suitable to use in baby's delicate little nostrils.


1. Nasal Aspirators offer easy and gentle relief from the effects of a stuffy nose.
2. It enhances better breathing.
3. The device prevents the onset of sinus/mucus infection.
4. The tool is easy to clean.


Start by squeezing the air out of the bulb of the syringe to create a vacuum. Proceed by gently inserting the rubber tip into one nostril. You should gradually release the bulb to suction out the phlegm. Retrieve the syringe and squeeze the bulb forcefully to force out the mucus into a tissue. Ensure you clean the syringe and repeat the process for the other nostril.


It is essential that the nasal aspirator is cleaned thoroughly. For effective cleaning, you can use warm, soapy water after each use. You should also squeeze the bulb with the tip in soapy water to clean the inside as well. Shake the soapy water inside the bulb vigorously, before squeezing it out. If you have the type that you can unscrew to open, then wash the insides with a sponge.



---
We Also Recommend