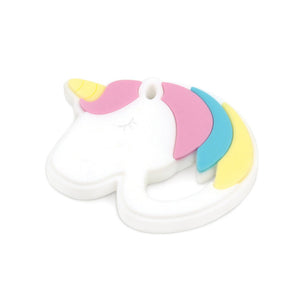 Bumkins Silicone Teether - Unicorn
or 6 weekly interest-free payments of

$2.82
What's this?
---
---
Soothe baby's sore gums with our playful Cactus Teether. Made from silicone that's flexible and gentle enough when your baby wants soft pressure on their gums. Texture massages and provides relief to gums while allowing your baby to explore shapes. Chill for added relief. Silicone has a natural resistance to bacteria. It can be safely boiled to sterilize. Made from 100% food-safe silicone and does not contain any petroleum-based plastics or toxic chemicals.
Silicone is safe to boil for sterilization
Dishwasher-safe (top rack)
BPA-free, PVC-free, cadmium-free, phthalate-free and lead-free
CPSIA compliant
Inspect regularly for damage; discard immediately if damaged or torn
For ages 3 months and up
Naturally Bacteria Resistant
We know babies put everything in their mouths. After all, it's how they explore the world around them! Thankfully, silicone has a natural resistance to bacteria, mold, fungus, odors, and stains. Silicone is also durable, long lasting, and the colors stay bright.

Easy to Clean and Sterilize
Our teethers are dishwasher safe. For additional cleaning, you can also boil your teethers for an in-depth sanitizing. Unlike plastic, you do not have to worry about any harmful chemicals leaching out during the boiling process.

Soft and Textured to Soothe
All of our teething toys feature textured sensory bumps to soothe those swollen, achey gums. In addition, our teethers are made of soft, flexible silicone. They are the ideal texture to gently soothe baby's sore gums.
Most of our silicone teethers feature a large inner handle, allowing baby to easily grasp and hold on. Other teethers, such as our Silicone Teething Rings, fit perfectly around your wrist, allowing you to keep teethers nearby while on-the-go.

Cool temperatures help reduce inflammation and soothe swollen, tender gums. To give baby an extra step of relief, you can place our teethers into the refrigerator or freezer for quick, cool comfort.

Materials
 BPA free and non toxic

Safe for dishwasher, microwave, freezer & electric sterilisers 
Dry products with a towel to avoid water-marks 
Store products in a dry place 
Do not store the products in direct sunlight
---
We Also Recommend