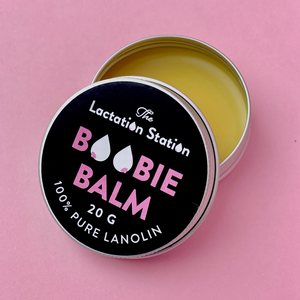 Boobie Balm
or 6 weekly interest-free payments of

$2.48
What's this?
---
---
The Lactation Station Boobie Balm is made of 100% pure lanolin, meaning it is completely safe for breastfeeding mothers.

Lanolin derives from sheep's wool and is the perfect hydration balm to be used for cracked, painful or dry nipples.

Boobie Balm is 100% natural and non-toxic which means there is no need to wipe or remove the balm before feeding the baby.

About our Boobie Balm
100% pure Lanolin Boobie Balm is safe to use on the skin while breastfeeding.
Non-toxic & you do not have to wipe it off or remove it before your baby breastfeeds.
Although lanolin is generally considered safe, you or your baby may be sensitive to the balm.
Boobie balm should be avoided by people with a known allergy to wool as it is 100% Lanolin.
If your nipple pain persists, see your midwife, a lactation consultant or a breastfeeding specialist.
20g tin

How to use:
Apply Boobie Balm directly to any affected areas on your areola anytime you are experiencing nipple pain, or as a preventive measure.
You can safely apply the Boobie Balm to cracked or bleeding areas. However, open areas may need additional time to heal.
You do not need to remove the Boobie Balm from your nipples before breastfeeding.
For better absorption of the balm into the skin, apply 10-15mins before breastfeeding. Or after the baby has finished feeding.
Discontinue use if you experience any increased skin irritation, pain, skin cracking, or bleeding after using our Boobie Balm, or your baby's mouth develops any sores or redness.
Other tips for relief of cracked nipples:
Ensure you change your breast pads regularly.
Apply freshly squeezed breastmilk to the cracked areas.
Warm compress on the breasts.
Soak cracked nipples in a warm saltwater bath. Rinse or wipe thoroughly before feeding the baby.
Breastfeed baby on the less cracked side first.
Leave the injured breast exposed to fresh air to allow the areola to dry thoroughly before reapplying your bra or breast pads.
If experiencing continuous cracked or sore nipples ensure you have your baby's latch checked by your midwife, lactation consultant or breastfeeding specialist.
---
We Also Recommend